2019 Chevrolet Tahoe Driving Impressions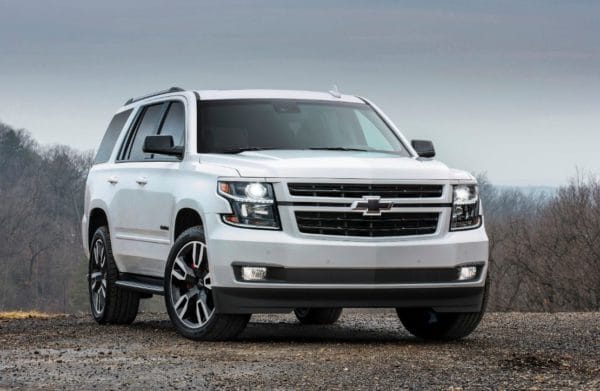 Hardly the best-handling or agile SUV on the market, the Tahoe delivers a truck-like experience, courtesy of its separate-body construction. On the plus side, the softly-sprung suspension, with coils at the rear, copes effectively with rough road surfaces, yielding a smoothly comfortable ride.
Tahoes with standard 17-inch wheels or optional 18s ride more smoothly, with a softer feel as well as decent body control. Larger optional wheels firm up the ride without comparable improvement in handling.
Considerable ground clearance might impede passenger entry/exit, but becomes a boon when leaving the pavement. Properly equipped, a Tahoe can tow well over four tons. Tow/Haul mode helps prevent the transmission from downshifting prematurely.
If you savor big-V-8 power and performance, accompanied by rich exhaust sounds, Chevrolet's Tahoe delivers the goods. The proven 6-speed automatic helps. During low-load driving, the 5.3-liter Tahoe can run on half its cylinders, slightly boosting gas mileage.
Off-road, the Tahoe's 204 inches of length and 81-inch width limit maneuverability. Optional four-wheel drive can have a two-speed transfer case. The Z71 package adds skid plates, and light-duty all-terrain tires.
A big V-8 in a heavy vehicle translates to uninspiring fuel economy, though today's Tahoe doesn't guzzle as much as predecessors. Rear-drive models are EPA-rated at 15/22 mpg City/Highway, or 18 mpg Combined. Four-wheel drive shrinks the estimate just slightly, to 14/23/17 mpg. The 5.3-liter V-8 can run on either regular gasoline or E85 ethanol fuel.
Premium-grade gasoline is required for the 6.2-liter V-8, EPA-rated at 14/23 mpg City/Highway, or 17 mpg Combined, with rear-drive. Four-wheel drive lowers the highway figure to 22 mpg.
1Dealer Discount applied to everyone.