2019 Chevrolet Silverado 1500 Walk Around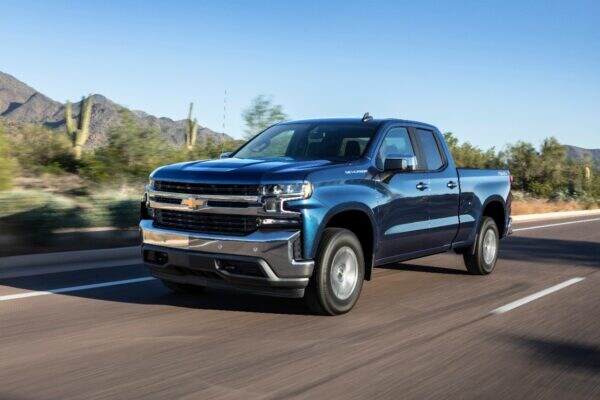 Always big, the Silverado has become even bigger. Specifically, it's 1.7 inches longer, 1.2 inches wider, and 1.5 inches taller. Wheelbase has expanded by 3.9 inches. The 2019 model's cargo bed is larger, too: an inch taller and longer, and almost 7 inches wider inside. Cargo capacity has grown by some 20 percent.
Bolt-upright styling starts with a blocky front end, dominated by a massive grille. Headlights form small slits. Front and rear fenders bulge substantially. Wheel cutouts are now rounded rather than square-cut. Integrated rear-bumper steps have grown, to accommodate steel-toed work boots.
Details vary according to trim level. Work Trucks have black trim, mid-level models turn to body-color, and top trim levels display considerable chrome.
Interior
The 2019 Chevy Silverado's interior is a model of simplicity. Though orderly and businesslike, laid-out carefully, its cabin has expanded and improved passenger room in what was already a spacious Crew Cab, in particular.
Front seats are roomy and comfortable. The back bench in Double or Crew Cabs is wide enough to seat three passengers. Rear seat bottoms fold upward to reveal storage space. Switches are ready for use by gloved hands.
Soft-touch surfaces cover the dashboard, center console, and door tops, and all controls are large and sensibly positioned. A 7.0- or 8.0-inch touchscreen on the center stack works with the easy-to-use infotainment system. Power outlets are easy to access.
Bigger than before, the cargo beds are deep and versatile – a notable bonus for a large pickup truck. A dozen fixed tie-downs are included, each able to withstand 500 pounds of force, along with nine movable tie-downs. The aluminum tailgate can have lift assist and a power up/down feature.
1Dealer Discount applied to everyone.