2018 Chevrolet Corvette Introduction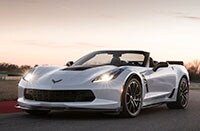 The Chevrolet Corvette is in its seventh generation, or C7, and still comes across young and hot as ever. The 2018 Corvette is in the fifth year of this generation, having been introduced for 2014. There have been steady small changes in the past five model years, but nothing significant from a mechanical standpoint. It's so dynamically perfect that it hasn't needed changes to keep up with anyone.
The C7 delivers astonishing acceleration, amazing grip, quick reflexes, and absolute communication through the seat and steering wheel. Even the automatic transmission matches the best of the German twin-clutch automatics.
It comes as an awesome Stingray or mind-shattering Z06. The Stingray uses a 6.2-liter LT1 V8 making 455 horsepower and 460 pound-feet of torque. The Z06 uses a supercharged LT4 V8 that's also 6.2 liters, making 650 hp and 650 lb-ft. A 7-speed manual gearbox is standard, with automatic rev-matching downshifts. It's fantastic. The optional transmission is a GM-built paddle-shifting 8-speed automatic. It's superb.
There's a model in the middle, the Grand Sport, which uses the Stingray engine and the Z06 suspension and steering geometry. It makes 5 more horsepower than the Stingray, and is a couple tenths quicker in the quarter mile. There's also a Z07 handling package that includes carbon-ceramic brakes.
The Convertible doesn't lose any structural integrity, because the Corvette was designed from the ground up as a roadster; the Convertible isn't a coupe with the top chopped off afterward, it's a roadster with a top added.
With a tall final-drive ratio keeping rpm low at freeway speed, and cylinder de-activation technology to cut cylinders when cruising, Corvette gets an EPA-rated 19 miles per gallon Combined. The Z06 rates 16 mpg Combined.
Neither the NHTSA nor the IIHS have crash-tested the C7 Corvette, but its rigid structure, many airbags, and stability control inspire confidence. The best way to stay safe in a Corvette is don't lose your judgment.
1Dealer Discount applied to everyone.