2018 Chevrolet Bolt Introduction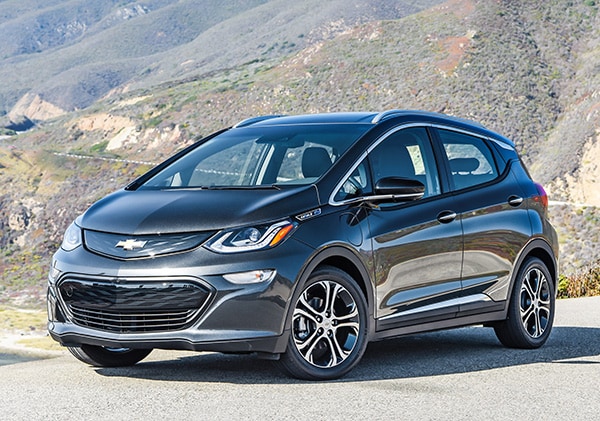 The Chevrolet Bolt EV electric car is a tall compact five-door hatchback with the passenger space of a midsize car, thanks to a chassis that pushes the wheels outward. With a range of 238 miles between charges, it's the first mass-market electric car to break the 200-mile barrier, something that otherwise only a $70,000 Tesla can achieve. With its interior room, range, and a price that makes the cost-per-mile numbers work for commuter travel, it's the first mainstream electric vehicle.
The EPA classifies the Bolt as a small wagon, and that's close enough; meanwhile Chevrolet calls it a crossover, but that's a stretch because there's no all-wheel drive nor higher ground clearance. We see it as a tall compact car. It's built on dedicated architecture for electric cars, although some suspension components and accessories are shared with other GM vehicles. It handles well enough in turns.
Bolt's powerplant is a simple design. A big flat 60-kilowatt hour lithium-ion battery pack sits under the floor and powers an electric motor that drives the front wheels. That motor is rated 150 kilowatts (200 horsepower), and can squirt the Bolt to sixty miles per hour in less than seven seconds. With that kind of acceleration you'll never get in anyone's way in the city. In fact, big bulky gas burners will be in your way. You will feel superior, and be shouting, "Get those dinosaurs out of my way!"
The EV's onboard charger operates at up to 7.2 kilowatts. A 120-volt charging cord is stored under the rear cargo area. Chevrolet believes most buyers will install a 240-volt outlet in their garage (it might already be in the laundry room), so they will be able to charge the battery pack using a 240-volt Level 2 charging station. GM says that with Level 2, it takes less than two hours to get 50 miles of charge; so that would be overnight for a full charge of 200-plus miles. The Bolt also offers an available 50-watt DC fast-charging port, which GM says will give you 90 miles of range in 30 minutes of charging. It costs $750, and uses the Combined Charging System (CCS) protocol adopted by all U.S. and German makers except Tesla. It makes the Bolt EV do-able for road trips.
The battery pack, electric motor and drive unit are manufactured in Korea, but the Bolt is built in Michigan.
Unlike BMW, Nissan and Volkswagen, GM doesn't plan to finance the building of fast-charge infrastructure across the country. That's also unlike Tesla, with its nationwide network of Supercharger sites.
Gasoline-powered rivals include the Hyundai Accent, Mazda2, and Toyota Yaris. The Bolt is bigger and has more standard equipment than those cars, including HID headlamps, LED daytime running lights, rearview camera, 60/40 split folding rear seat, automatic climate control, two USB ports, 10.2-inch color touchscreen, digital rearview mirror, and 17-inch painted aluminum wheels. And that's just the base LT model.
The Bolt is rated by the EPA at 119 MPGe. Miles Per Gallon Equivalent, or MPGe, measures the distance a car can travel electrically on the amount of energy in a gallon of gasoline. The Bolt's score is beaten only by one model of the BMW i3. As for its overall green virtues, it's a big argument we won't get into here. Lithium production and coal-powered electric plants must be considered in the car's pollution scorecard.
The NHTSA hasn't crash tested the Bolt, but the IIHS awards it the top "Good" rating in every category, enough to make it a Top Safety Pick. This despite calling its headlights "Poor." Many other cars get that Poor rating from the IIHS, and we're inclined to agree with them. There is a big difference in the lighting effectiveness of cars for sale today.
For $495 there is a safety package adding forward-collision warnings with automatic emergency braking, lane-departure warning with active lane control, and automatic high beams. But adaptive cruise control and high-speed emergency braking isn't available.
The lack of an engine and transmission up front required some innovative crash engineering in the stubby nose. Crash forces are absorbed and diverted around the passenger compartment by a lower cradle holding the traction motor and driveline, plus an upper cradle that contains the power electronics. Each is attached at four points.
The Bolt was the first car on the market to use the new Michelin self-sealing tire; if it picks up a nail it fixes itself, and you never know it. So there's no spare tire in the Bolt, or even an inflation can, because it's not necessary.
1Dealer Discount applied to everyone.